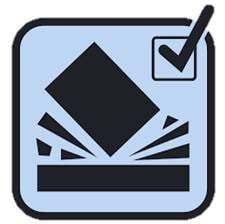 High-g Mechanical Shock Testing

OTS has available a custom high-g shock table that enables mechanical shock testing of components from 100's up to 100,000g levels. Our specialized shock system enables project managers, engineers and scientists to perform comprehensive testing and demonstrate survivability of prototype devices and components in relevant high-g environments at a fraction of the cost of actual field-demonstrations. OTS supports both government and industry partners to reduce the risk of prototype development before investing the time and money at field testing
Mechanical Shock Test Video

Video of high-g shock testing of a MEMS component conducted at a nominal shock level of 40,000g. Testing performed using OTS' custom high-g shock table which is capable of providing a broad range of testing conditions compliant with military and industry standards.
OTS utilizes a customized Lansmont Model HS-23 Series High-g Shock Test System with a dual mass shock amplifier (DMSA) which is capable of accelerating test articles up to 120 ft/sec (36.6 m/sec) before impact. Our specialized equipment allows for a variety of programs for half-sine shock pulses on test components of multiple sizes, geometries and weights. Shock loads during testing are recorded using a high speed shock accelerometer mounted in line with the test component. This set-up allows shock testing up to 100,000g.
Our expert engineering staff works closely with customers to devise a customtest plan which includes:
Secure mounting of test components in existing or customized testing fixtures.

Accurate high-g shocks (in a single axis) for a controlled, custom shock profile.

Programmable shock durations to meet testing parameters and product specifications.

Comprehensive and cost-effective testing in a timely manner to meet any development schedule and budget.
System Features
Free Fall or Accelerated Shock Capabilities

Target Drop Height

Target Acceleration

Very short shock durations (0.1ms) with high acceleration shock pulses (up to 100,000g) using a Dual Mass Shock Amplifier (DMSA)

Velocity Change of up to 120 ft./sec
Accelerated (High-g) Testing Options



Test Area (in2)

 

 Maximum Specimen Height (in)

 

Maximum Specimen Weight (lbs)

Maximum Shock (g)

 
 

*Shock Duration (ms)

 9 x 9

 12
250 
10,000 
Custom 
 4 x 6

 10
 5
 100,000
Custom 
*Shock Duration is programmable to customer specifications.
OTS' expert staff will work with you to develop the most comprehensive testing plan designed to validate the reliability of your test components in relevant high-g environments : shock loads from 100 - 100,000g levels at customer specified shock durations (0.1ms - 3.0 ms).
Our custom high-g mechanical shock test system is capable of providing a broad range of testing conditions compliant with the following specifications:
ANSI/EIA-364-27c

JESD22-B104C

MIL-STD 202, Method 213

MIL-STD 810, Method 516

MIL-STD 883, Method 2002